EYE OF THE KEEPER HAS GONE DIGITAL!
Welcome to our online store, where you can purchase both digital and print formats of our comics.
Our digital comics are provided to you as simple downloads and our print comics will be mailed to you.
Our digital downloads are offered in single issues as well as 6 and 12 issue packages. We also have a great deal on our lifetime membership, a whopping 120 issues for our diehard fans.
All of our transactions are processed through paypalís secure worldwide system. All you need is an email address and a credit card number to begin collecting the series.
So what are the perks for buying our package deals? Well, in addition to saving money, everyone gets entered into our contests for chances to win free prints, comics and other valuable goodies at our online store. One of our big contests is open to any writer and artist (pencillers, inkers, colorists, painters, digital artists) for a chance to get a paid job with us here at Eye of The Keeper central. More details are available once you register and receive our introductory email.
**All prices in Canadian Dollars. GST Applicable**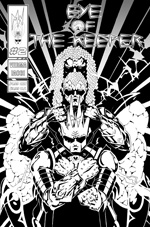 EYE OF THE KEEPER ISSUE 2
EOTK0002 - Issue 2: The Keeper is mentally deconstructed, and physically unraveled by the hands of a being with a meticulous form of vengeance. The battle is psychological in nature and powers are tested to their ultimate limits.
Price $4.99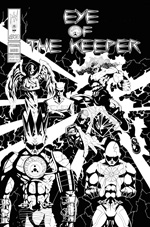 EYE OF THE KEEPER ISSUE 3
EOTK0003 - Issue 3: Shattered to the core, The Keeper fights for his freedom and sanity. The Eye remains a portent of violence. The end will set the stage of things to come. The first storyline comes to a conclusion as both sides are pushed to redefine their limitations.
Price $4.99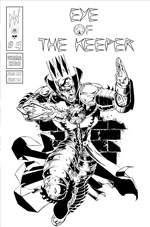 EYE OF THE KEEPER ISSUE 4
EOTK0004 - Issue 4: The ongoing story begins here. New characters are introduced, building on the mythos of The Eye, and leading The Keeper on a path of revelations. Destiny and chance are set in motion.
Price $4.99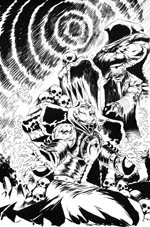 EYE OF THE KEEPER ISSUE 5
EOTK0005 - Issue 5: The Keeperís surreal journey continues as tensions escalate. The psychological battle is taken further as a hint of hypnosis enters the fray.
Price $4.99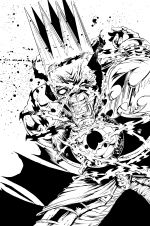 EYE OF THE KEEPER ISSUE 6
EOTK0006 - Issue 6: Blame overwhelms The Keeper. Torture is undeniable. Pain is redefined.
Price $4.99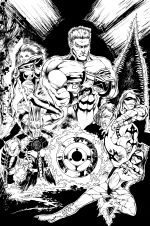 EYE OF THE KEEPER ISSUE 7
EOTK0007 - Issue 7: Truth without justice. Peace within war. The journey deepens as never before.
Price $4.99